Whats on #COAWeek2023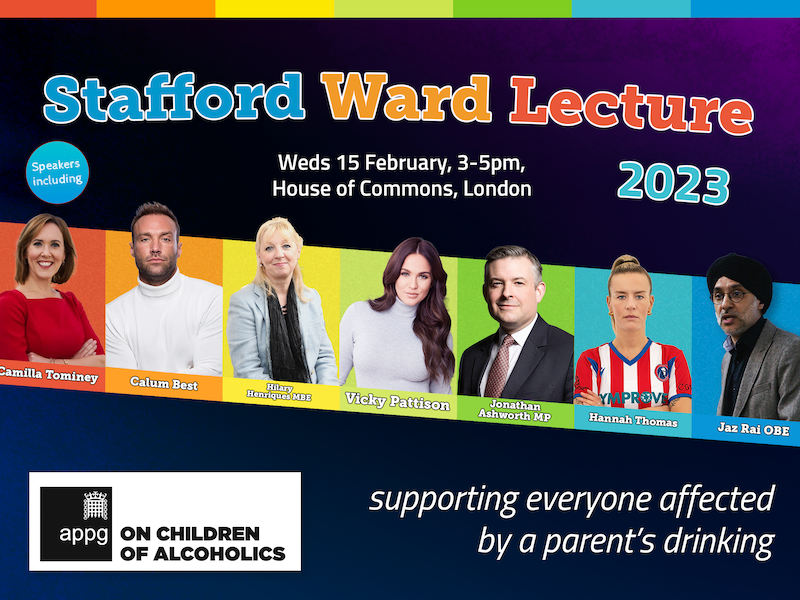 What's on for this #COAWeek?
Nacoa is leading International #COAWeek2023 (12 – 18 February 2023), the latest instalment of the annual awareness campaign casting a light on the 1 in 5 children across the UK who are struggling to live with a parent who drinks too much.
This year's events will include: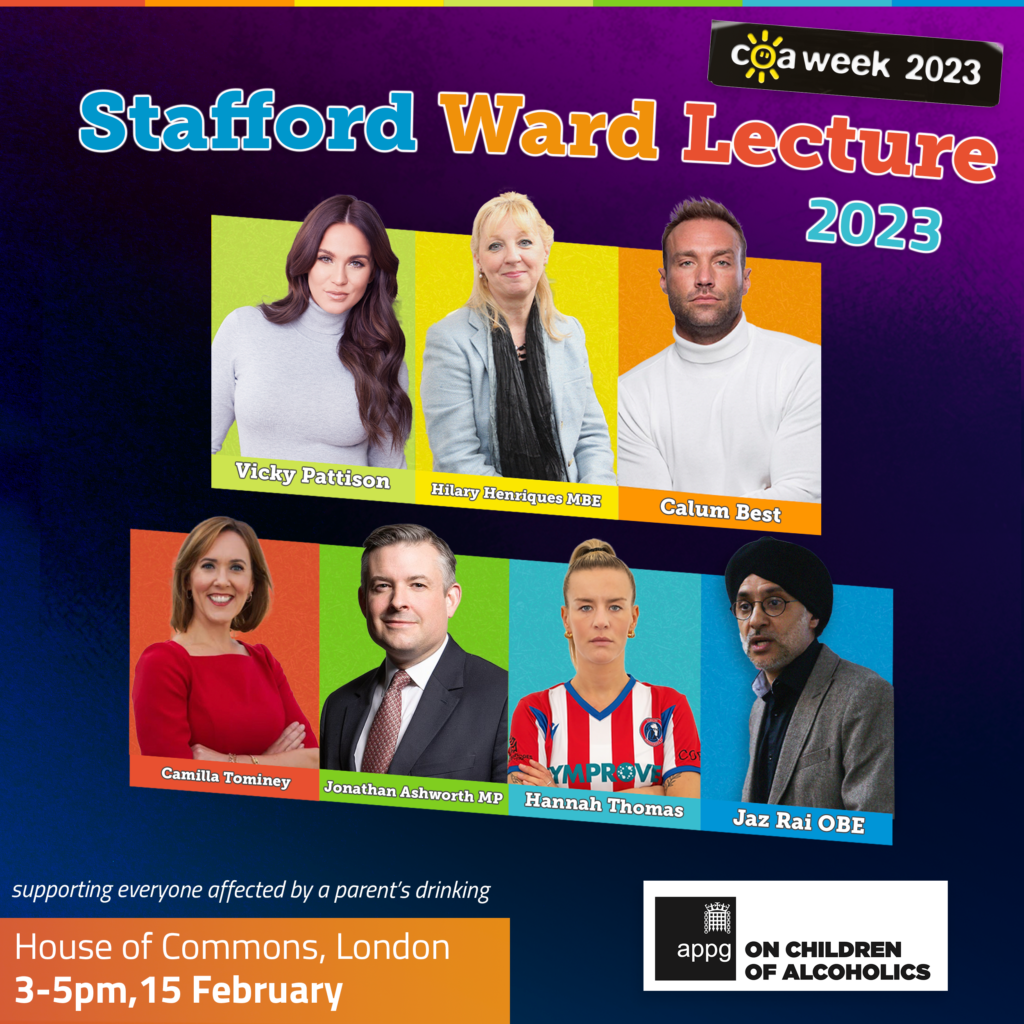 Stafford Ward Memorial Lecture 2023
3pm – 5pm, Wednesday 15 February – House of Commons, London
This year's COA Week lecture will be delivered by Vicky Pattison, TV star, podcaster and author. Vicky first shared her journey as a COA in the groundbreaking Channel 4 documentary, 'Vicky Pattison: Alcohol, Dad, and Me'.
Speakers also to include: Hannah Thomas (aka HT) of Dorking Wanderers, Calum Best, Jaz Rai, Hilary Henriques MBE, and Camilla Tominey.
Jonathan Ashworth MP will attend to give a special update on the All Party Parliamentary Group for Children of Alcoholics.
Press invites on request to admin@nacoa.org.uk.
General invitations are exclusive to Nacoa members. To become a member of Nacoa for as little as £25 per year, tap here.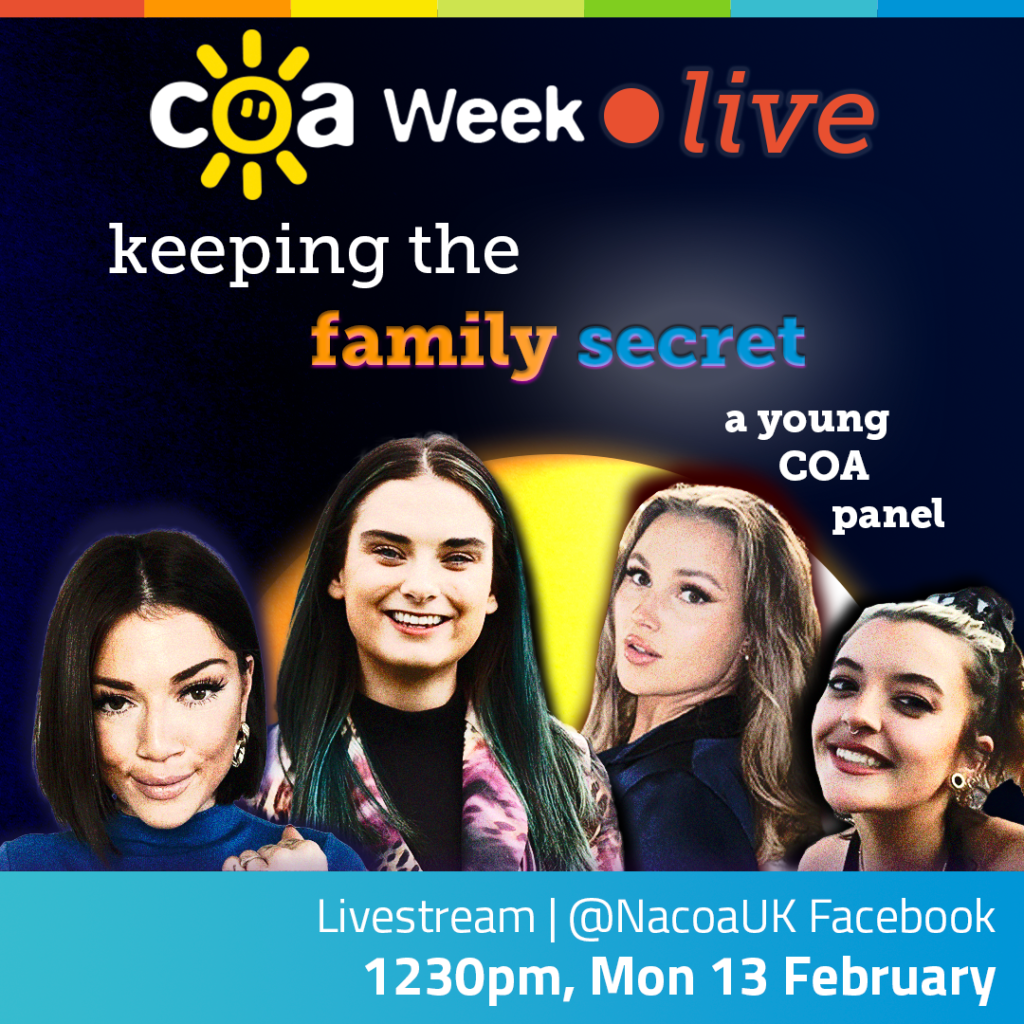 COA Week Live: Young persons' panel.
1230pm, Monday 13 February – Livestream
Nacoa volunteer a child of an alcoholic Hannah Tyers will this year chair our special young COA panel livestreamed event. A chance to hear from young people what challenges they faced growing up recently in homes where alcoholism coloured the atmosphere.
Our theme this year for COA week is 'The Family Secret'. This interactive lunchtime discussion will be broadcast live online.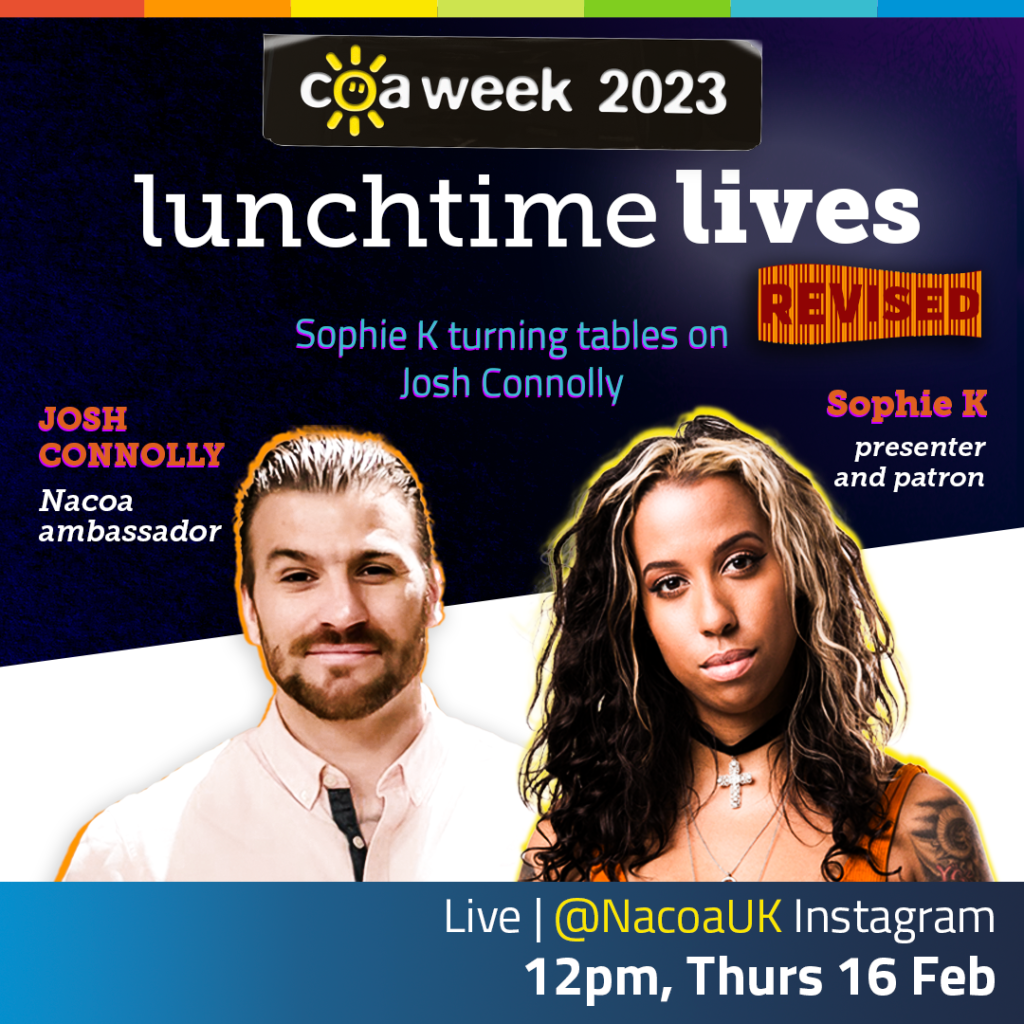 Lunchtime Live Revised! Sophie K interviews Josh Connolly.
12pm, Thursday 16 February
After conducting countless Lunchtime Lives interviews himself, Josh Connolly is having the tables turned. Nacoa patron Sophie K will be asking the questions to hear more from Nacoa's most tireless ambassador.
Sophie is a fan favourite of the Lunchtime Lives series, and is one of the most informed and informative prominent voices in this space. She gave the keynote speech at the Stafford Ward Lecture at the House of Commons during COA Week 2022.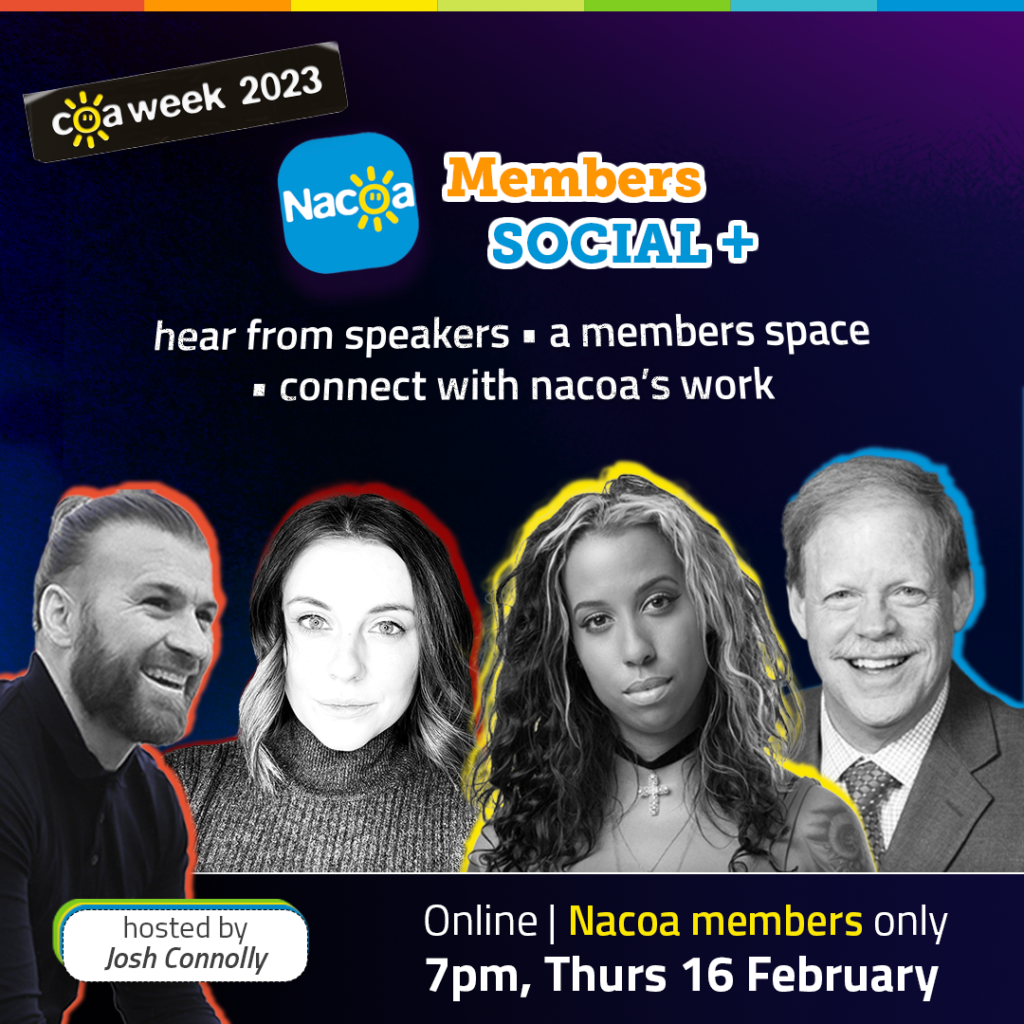 COA Week: Nacoa Members Social+
Members Social+ is a regular online event dedicated to our much valued Nacoa members. Time to hear from special speakers, and share a space to connect with Nacoa's work.
For this special COA Week social, a bumper line-up of special speakers has been booked:
Josh Connolly, Nacoa ambassador.
Sarah Drage, COA campaigner, podcaster, and Ted Talk speaker.
Sophie K, radio and TV presenter, and Nacoa patron.
Jerry Moe, Former National Director of the Hazelden Betty Ford Children's Program, USA.
Raj Kaur and Karamdeep Kaur, co-chairs of Nacoa's 'Widening Access' panel.
Ceri Walker, Nacoa ambassador and multi-award winning film maker.
To become a member of Nacoa, just tap here.
What are you doing for #COAWeek2022?
We would love to hear your plans are for this year's children of alcoholics week?
As we enter the 13th year of COA week, Nacoa invite media agencies, businesses, charities and the general public to get involved so we can continue to reach the 2.6 million children in the UK living with a parent who drinks too much.
We would love to feature your work on COAWeek.org.uk. Contact us via the website or admin@nacoa.org.uk.
For ideas of ways to help, visit the COA Week website here.

Request a custom poster for your organisation, contact admin@nacoa.org.uk.
We will produce a custom poster for your organisation, with custom logo and text on top of the below image. Please keep words to a maximum of 30.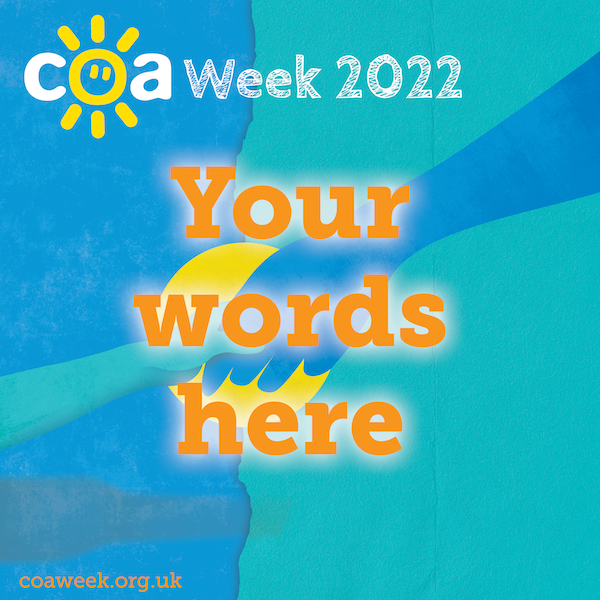 Press contacts, click here.