COA Week Live | International panel event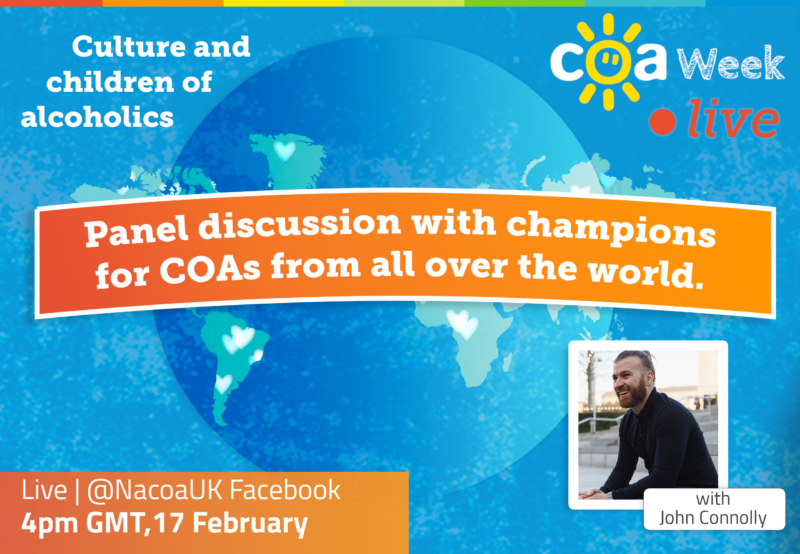 4pm GMT, Thursday 17th February, Facebook Live
Champions for children of alcoholics around the world will unite to talk about how aspects of culture inform their work. How do attitudes to alcohol and addiction differ? Where do our experiences align? And what can we learn from each other?
What specific worries do we have for children of alcoholics, and children of addiction, in our individual communities? How has Covid made things worse? How can positive change be made? What can we learn from each other?
Although thousands of miles divide our panellists and their clients, we share a universal bond of having worked with these adverse childhood experiences.
Join us. Join in.
Special guests include:
Jerry Moe: Former National Director of the Hazelden Betty Ford Children's Program, USA
Dr Sheila Gilheany: CEO Alcohol Action, Ireland
Josh Connolly: Ambassador for Nacoa UK
Sonja Gerič Bevec: Founder and CEO of NACOA Slovenija
Frauke Gebhardt: Nacoa Germany
Dr Virupaksha Devaramane: Consultant psychiatrist at Dr. A.V. Baliga Memorial Hospital – co-ordinator of COA Week, India
Maj Estlander: Bensow Foundation and founder of COA Week Finland
Dr Tony Rao: Consultant Psychiatrist and researcher
Dr Karamdeep Kaur, Psychiatrist in NHS CAMHs and Co-chair of Nacoa's Widening Access Panel
Michela Canevascini, Prevention Project Manager at Addiction Suisse
Watch and join in by going to the @NacoaUK Facebook page at 4pm GMT. Email admin@nacoa.org.uk if you would like any technical support.
A stream will appear on this page once the event is live. Though it is advised that watching on Facebook will offer a better all round experience.